This year's edition will be an in-person event after last year's online edition. This time we'll have all the excitement of getting together again and a busy programme of parallel activities to ensure IBERZOO+PROPET maintains its leadership position as an international business platform.
The wait is over. IBERZOO+PROPET, the leading commercial and business platform for Pet Professionals, organised by IFEMA MADRID and promoted by AMVAC and AEDPAC, starts its sixth edition tomorrow, with three days full of new developments, advances and innovation.
This trade-only fair will once again be on the international stage thanks to the presence of thirteen countries. Of all the exhibitors, 18% are from outside Spain, and 40% are product manufacturers. IBERZOO+ PROPET will feature brands from Germany, Denmark, Spain, the United States, France, Italy, the Netherlands, Peru, Poland, Portugal, Puerto Rico and the United Kingdom, offering the latest trends in the sector.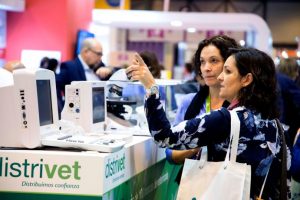 IBERZOO+ PROPET's sixth edition has already broken its own participation record at the last face-to-face event in 2020. A total of 214 exhibitors and 593 brands will make it a reference for the professional market. These will include Affinity, Animal Store, Aqualantis, Boehringer, Comrimak, Cotecnica, Dingonatura, Distrivet, Elanco, Fujifilm, Gosbi, Grupo GePork, Hills, MSD, Pisciber, Royal Canin, Visan and others.
Lola González, the Fair's director, is confident that this will be an outstanding edition. She says, "we've worked hand-in-hand with the sector to offer the best professional scenario that involves personal meetings in an environment for business, learning, and fun, too. We aim to maintain our position as the leading platform for this pet trade both in Spain and abroad, so we're committed to presenting the most outstanding innovation and novelties in products and services that allow visitors to do business and enjoy a unique experience."
The sixth edition of IBERZOO+ PROPET will feature exhibitors involved in aquariums, pharmaceuticals and health products, animal food & nutrition, services & management, beauty & hygiene, fashion & accessories, equipment for veterinary clinics and stores, products and accessories for animals, and terrariums as well as the highly valued impulse space that will host eleven entrepreneurial businesses and start-ups in the sector with very creative proposals. Our strategy with this area is to present new firms in the industry and promote their offering, expand and exchange contacts to enable them to continue developing and establish their place in the market.